All Heartworks Created Using Art from the Heart Adventure Technique:
An Art from the Heart Adventure is a Journey YOU Take with YOUR Heart & Soul. The Heartworks YOU Create Represent Photographs YOU Take Along the Way That Reflect YOU & YOUR Adventure
Writings & Heartworks Dedicated to My Cat Sammy - Pure True Love
Sammy
The second male I ever truly loved was buried today. The pain of this loss was strangely less than I expected. Perhaps because I had time to grieve before he left. Or maybe it was because I was with him to the very end and I felt he knew how deeply I loved him. Perhaps it was because for the very first time I felt truly loved unconditionally. Read More...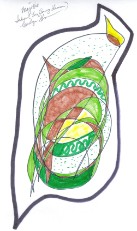 The Sadness Heartwork Above Shows Sammy Wrapped in Green Towel In Last Hours
Love & Guilt Heartworks on Left
Click on Any Heartwork for More Insight
Click on Poem or Tribute Below for More Insight
Published by True Emotions Artwork Plus